Not gonna lie, photos like these just make me want to stay there forever. Perfect weather, extravagant outfit, long daylight hours and, most importantly, good cafes that I can chill in for days. I have to admit part of the reason why I really looked forward to going to Lisbon is that I could wear something very Bohemian, vibrant, flowy, -ish, you know what I mean? Lisbon is nothing like London, Paris, or Japan or any other summery countries. Lisbon is historical, it's kinda old. But at the same time it also has its own sense of Bohemian vibe mixed with some oldness, but also fused with energy, cheer and all the positivity. Personally for me Lisbon's almost like a Cuba in Europe (I actually researched on what to wear based on Cuba).
Without further ado, here's my Lisbon travel lookbook, which I am pretty content looking at it.
Lisbon is all about vibrant colours. Red roofs or yellow walls, your call. Top, pants, maxi dresses, just anything in red will do.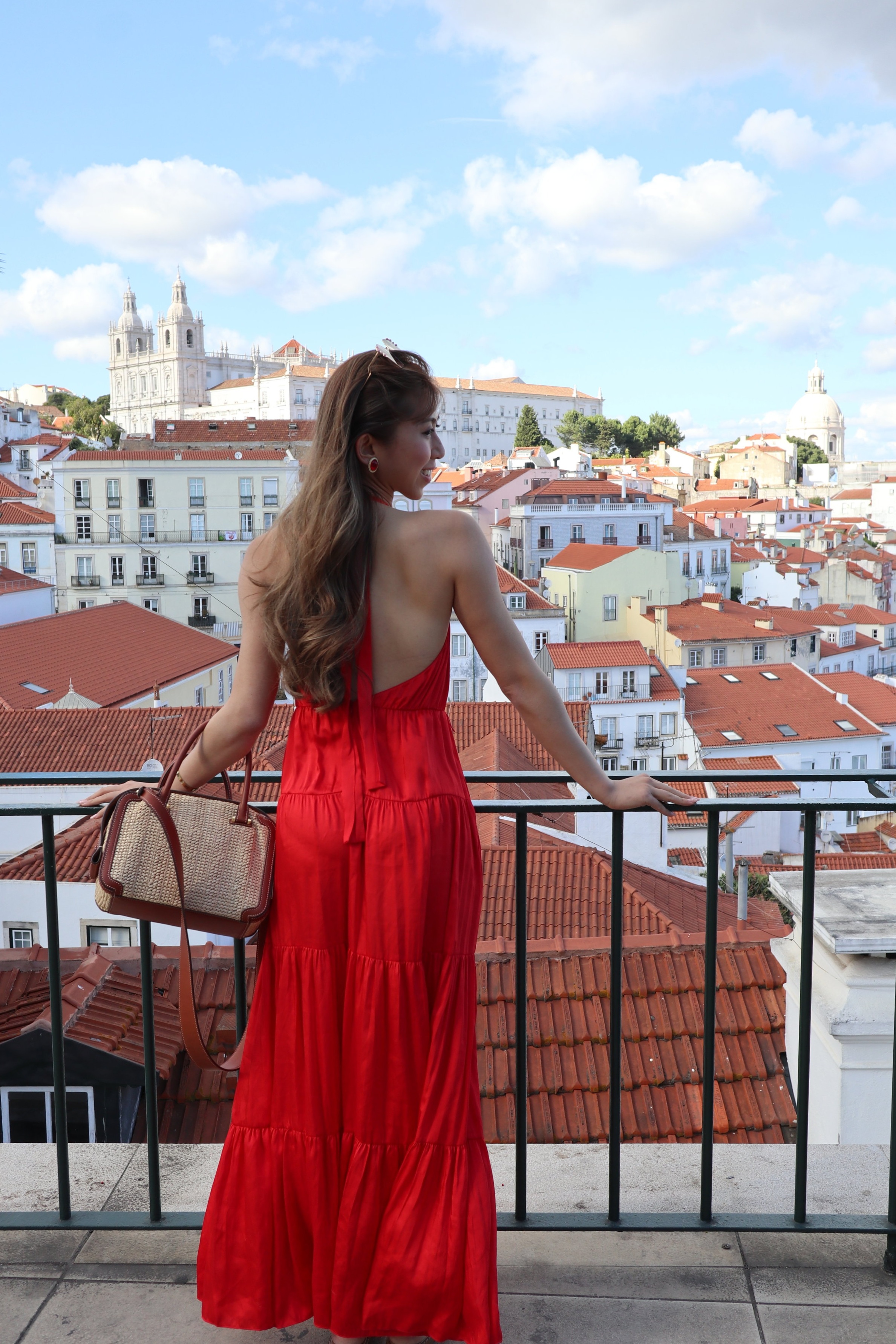 Lisbon for me is quite vintage. It's old, but not the dusty, conservative kind of old. It's colourful, it's cheerful and very welcoming. Lisbon's like Cuba and it's also like Italy. That's why I think some vintage doggy print is a not-bad option.
As I said one reason why I have wanted to come is because I can finally wear something extravagant. I guess I did wear something over. To be honest I bought this Bohemian outfit as a just-wait-for-the-perfect-location and have parked it at the bottom of my wardrobe ever since. Top it up with a turban and a scarf bag with the same pattern to bring out the inner Bohemian in you.
Probably my most typical travel looks. White cami with some white flowy wide pants. Straw hat, a wicker bag from the hottest trend right now, white block heels. Even I start to wonder if this combo has appeared too much on this blog.
I put this last because this is my very most favourite, and most recommended, out of all the looks here. It might actually be one of my favourite shoots done so far. Needless to say, Lisbon is all about the signature yellow. From yellow houses to yellow buildings, it's everywhere. If you tell me I'm only allowed to bring one outfit, this is it.
Now if you have enjoyed my travel lookbook and want to go to Lisbon, here's 10 things about Lisbon you gotta know before you go.