Coming to the last stop of my UK trip, once again, it's my first time to set my foot in Windermere. Talking about Windermere, everyone was telling us how cold it would be and how we should bring down jackets and whatnot. Of course we followed the advice, all geared up against the cold. And then turned out, due to the unexpected heat wave, it was 36 degrees in Windermere, without aircon (as usual). Trust me, it wasn't great (Tip: make sure you check the weather forecast before you pack.) It was so hot that we could barely fall asleep. Yes it was that crazy.
Anyways, if this is the first time you hear about Windermere, it's fine. I didn't know the existence of this little city until last year. To my surprise, it was actually not bad. Very chill atmosphere, awesome countryside scenery, food is so so, but overall it's quite okay. It's nothing like London, or Manchester, or Edinburgh, where you visit castles, historical buildings. It's more about the mothernature, day tour up and down the mountains and around the famous lakes in the area. I would highly recommend you to join those day trips where they will bring you to more remote areas.
Without further ado, here's my 3 Countryside Outfits chosen for the Windermere trip! (Luckily I was relatively less geared up for the "cold" unlike the rest of my family, thank god!)
You guys know me, I have always been a big fan for prints, especially animal prints. Got this dress from eq:iq a few months before the trip, just perfect for the trip!
I am afraid this is just another printed dress - this time a more vintage version. If you are worry that it looks too much for the countryside, switch them up with your white sneakers to create a more casual look. Perhaps also tie your hair into a pony tail?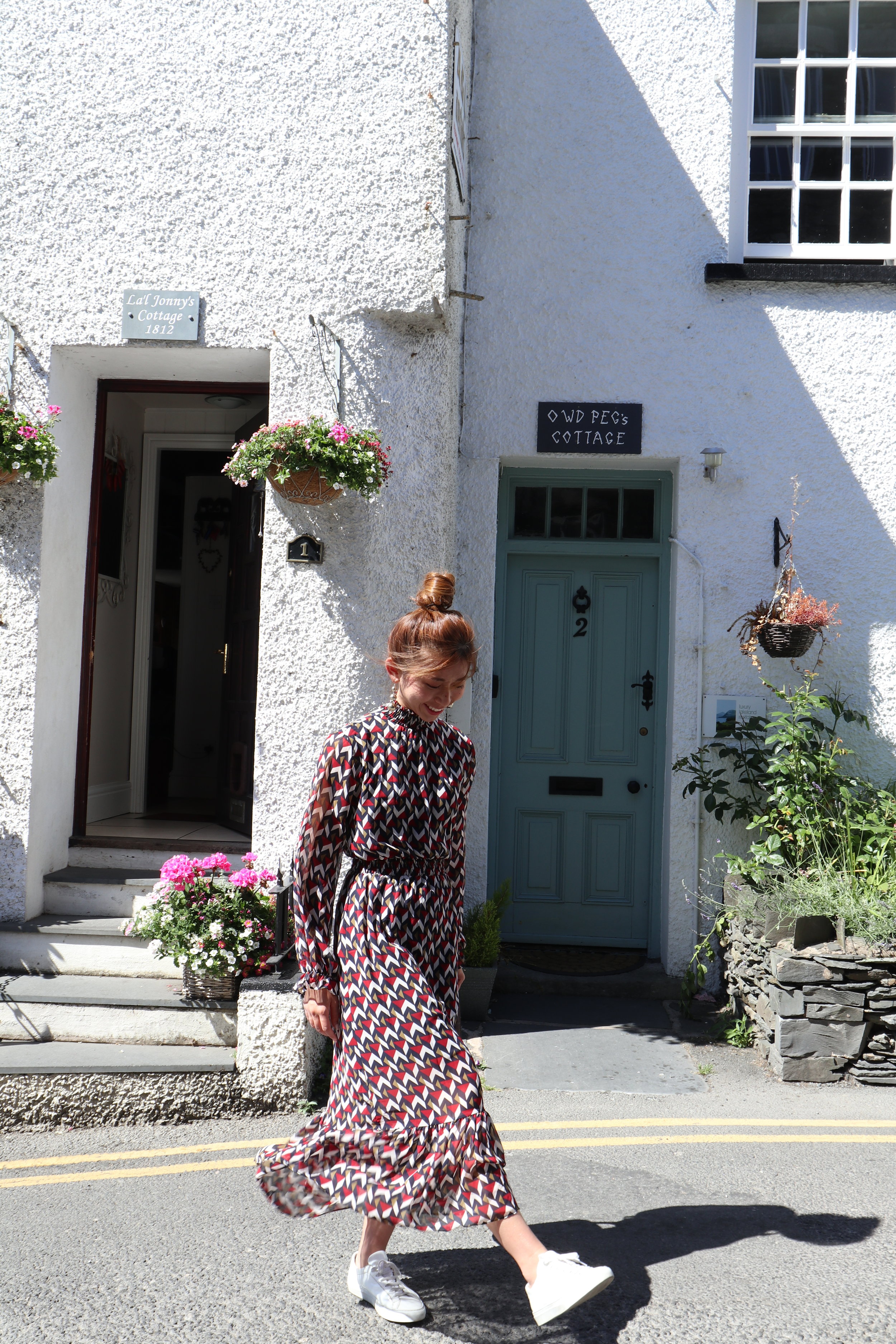 Yes - another kind of print - this time my favourite - floral. Trust me I didn't know I was wearing prints every day until I went through the photos. Guess that shows how much I like to play with prints when it comes to outfits? Anyways I have always found floral prints super classy and cute. Straw boater, white sneakers and a bucket bag, can anything get better than this?
If you ask if I would recommend Windermere, I would say it's more suitable for family trip - where you would like to just lay back and rest and chat. I would say it's not bad to get away from the hustles and bustles.
CC